You may be stuck in a rut wondering about the cheapest places to visit outside Canada or within Canada. If Calgary is on your list of places to relocate to within Canada, it's best to know what you are signing up for.
Calgary, one of the most populated cities in western Canada, is Canada's oil capital in the province of Alberta.
The vibrant city has a lot going for it, from the nearby Rocky Mountains to a booming job market. But before you pack up the U-Haul, you need to understand Calgary's cost of living.
It isn't the most affordable city, but it has an enviable work-life balance. This guide will give you insight into the living expenses regarding housing, food, entertainment, and more. That way, you can confidently move to or visit Calgary and enjoy staying in the third most livable city.
Check out these posts to understand why oil prices are skyrocketing and how Canadians pay more for skyrocketing fueling prices.
Average Salary In Calgary
The Calgary economy encompasses energy, technology, film and television, manufacturing, etc. This city has an average salary of $60,000 to CAD 70,000 annually.
However, this figure is a general estimate and can vary significantly depending on the industry, occupation, level of experience, and education.
Certain professions and sectors, like engineering, technology, and oil and gas, offer higher salaries in Calgary due to the city's strong presence in these industries. Conversely, salaries in retail, hospitality, or entry-level positions might be lower.
Housing Costs in Calgary
Housing costs in Calgary differ depending on the neighborhood and type of home you're looking for. Generally, you can expect to pay between $200,000 to $500,000 for a decent condo or townhouse and $350,000 to $750,000 for a detached single-family house.
Renting is also an option in Calgary and typically cheaper than owning, at least in the short term. For an average one-bedroom apartment in a suburban neighborhood, rent is usually $900 to $1,200 monthly. Expect to pay $1,300 to $1,800 for a similar place at trendier places or the city center.
If buying a home is your goal, you'll want to ensure you understand all the additional costs involved. On top of a down payment of at least 5-20% of the purchase price, closing costs like legal fees, inspections, and insurance can add up to 2-5%. And, of course, there are ongoing costs such as property taxes, utilities, and maintenance.
For a rough estimate, you'll want to budget at least $1,500 to $3,500 per month to own a place in Calgary, depending on factors like the neighborhood, home age, and mortgage size.
While home prices in Calgary are considered affordable compared to other major Canadian cities, ensure the total cost fits your budget before diving into the housing market.
You might consider looking at neighboring communities outside the city, like Airdrie, Cochrane, or Chestermere, where real estate prices are often lower. For young families especially, these outer suburbs can be appealing with more spacious homes and yards at a lower price point.
With only a 30-45 minute drive into downtown Calgary, the extra commute may be worth the savings.
Transportation Costs and Getting Around Calgary
Getting around Calgary is pretty straightforward. Between an efficient public transit system, bike-sharing, and ride-sharing options, you have plenty of ways to navigate the city without needing a car.
Calgary Transit operates bus and light rail services throughout Calgary. A single fare is $3.60, or an average monthly cost of $109 for a pass. The CTrain light rail system is fast, frequent, and covers most of the city. If you live near a train station, it's easy to get downtown or to the University of Calgary.
Bike-sharing is also popular, with numerous bike racks and over 500 shared bikes available from April through October. Rides may cost around $0.30 per minute. All you need is a credit card with $1 to unlock a bike, and you're ready to ride.
If you prefer to leave the driving to someone else, ride-sharing services like Uber and Lyft operate in Calgary. Fares will vary but expect to pay between $25 to $60 to get across the city during non-peak hours.
Driving in Calgary isn't terrible, but parking downtown can cost you. Street parking meters charge up to $5 per hour, and parking in lots or garages will run at least $15 to $25 per day. Traffic does pick up during rush hour, so public transit is often faster.
You have plenty of options to get around Calgary without owning a vehicle. And by taking advantage of the bike, bus, and CTrain systems, you can save money and do your part for the environment. Getting active and avoiding traffic jams – that's a win-win!
Food Costs and Groceries in Calgary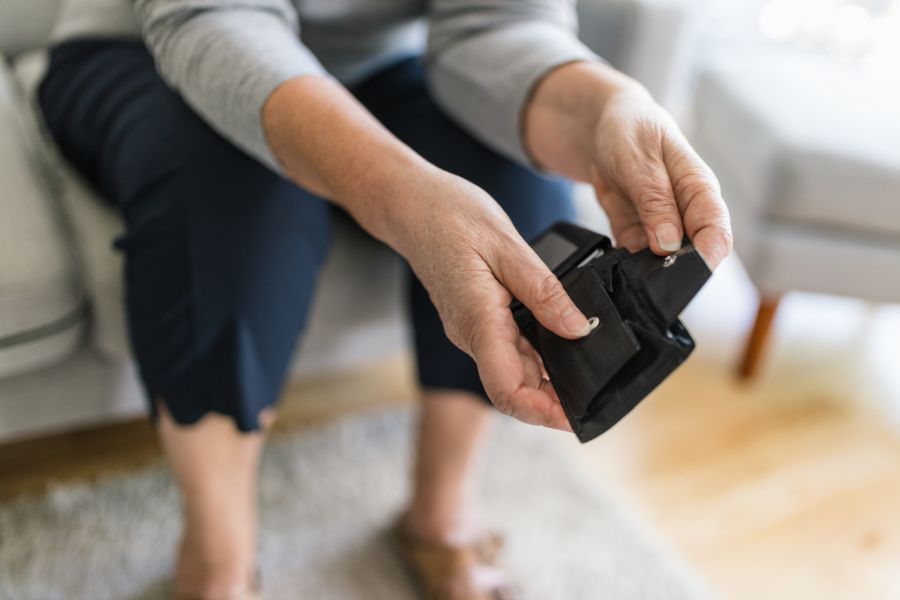 Food costs in Calgary hinge on where and what you eat. As a general rule of thumb, you'll want to budget at least $200 to $500 monthly for groceries for one person.
Of course, the more people in your household, the higher this cost will be.
Grocery shopping
The major grocery stores in Calgary are Superstore, Safeway, Calgary farmers market, and Co-op. Superstore typically has the lowest prices overall if you're on a budget. Safeway and Co-op are a bit more upscale.
If organic, locally-sourced, or specialty items are essential to you, you'll likely end up shopping at one of the higher-end stores or farmers' markets.
Also, eating out at restaurants in Calgary can easily cost $10 to $30 per person. So, if enjoying the city's dining scene is a priority, account for higher food costs in your budget.
With some basic money-saving tips, however, you can keep your grocery bill under control in Cowtown.
Healthcare and Utilities in Calgary
When moving to Calgary, healthcare and utilities are two of the biggest costs to factor into your budget. While Canada has universal healthcare, additional private insurance is still common.
Healthcare
Health care in Alberta has undergone quality reforms aimed at making it better. As a resident of Alberta, you'll have coverage under Alberta Health Care Insurance Plan (AHCIP).
This covers basic medical needs like doctor visits, hospital stays, and surgeries. However, many purchase additional dental, vision, prescriptions, and alternative care insurance.
Costs for private insurance plans vary but expect to budget at least $75 to $150 per month for a decent plan. Some employers provide healthcare benefits, so check if this is offered before purchasing your plan.
Utility
Utility costs in Calgary are reasonable compared to other major cities. For a typical 2-bedroom apartment or small house, budget around $200 to $350 monthly for electricity, water, heating, and internet.
With some budgeting and choosing more affordable providers, you can keep your utilities in a comfortable range.
Comparing rates and bundling services together often helps save money each month. Overall, the cost of living in Calgary is quite reasonable, especially if you take advantage of the city's natural surroundings rather than pricey attractions!
Entertainment and Recreation in Calgary
Calgary has no shortage of options when it comes to entertainment and recreation. Whether you want to catch a show, dine out, explore the outdoors, or just relax, there's something for everyone in this city.
The Arts
Calgary has a thriving arts scene. You can take in major musical acts, plays, and live theater at venues like the Southern Alberta Jubilee Auditorium or Jack Singer Concert Hall.
The city is also home to the Calgary Philharmonic Orchestra and contemporary art hub, the Esker Foundation. If you prefer visual art, visit the Glenbow Museum or Contemporary Calgary.
Food & Nightlife
With a world-class food scene, this city has the foodies covered. You'll find everything from upscale dining on Stephen Avenue to hip brunch spots in Inglewood.
The go-to neighborhoods for eats include Kensington, Bridgeland, and Victoria Park. 17th Avenue, 4th Street, and Stephen Avenue are popular for bar-hopping and patios at night.
The Outdoors
Calgary's location in the foothills of the Rockies means outdoor adventure is always close by. Get your adrenaline pumping with activities like ziplining, whitewater rafting, or mountain biking at locations like Canada Olympic Park.
If you prefer a slower pace, stroll along the river walkway, visit Fish Creek Provincial Park, or sign up for a guided nature tour.
Or enjoy multiple fun activities at Heritage Park Historical Village. Winters open a new recreation world with skiing, snowshoeing, and skating at places like WinSport's Canada Olympic Park.
Relaxation
Sometimes you just need to unwind. Treat yourself to a spa day at a luxury hotel like the Fairmont Palliser or Sheraton Cavalier.
You can also relax in one of Calgary's many city parks, like Prince's Island Park downtown. If retail therapy is more your speed, shop 'til you drop at places like Chinook Center, Market Mall, or Stephen Avenue Walk.
Calgary does have something for everyone. Whatever your interests, budget, or pace, you'll have no problem finding entertainment and recreation options to enjoy. The city's natural surroundings, vibrant culture, and ample amenities make it an ideal place to work and play. Look out for the Star Cineplex Magazine Issue to get all information about movies to binge while relaxing.
Conclusion
Calgary isn't the cheapest place to live, but its high quality of life and robust economy help balance the scales. While housing and transportation costs are notably higher than in other cities, you get a lot in return.
If you go in with realistic expectations about costs, secure a good job, and take advantage of all the city offers, you'll find the trade-off well worth it.
The secret to thriving in Calgary is simple: work hard, play hard, and don't forget to stop and smell the roses (or, in this case, admire the view!).
Cost of living aside, Calgary has so much to offer. Give it a chance, embrace the lifestyle, and you'll proudly call this place home before you know it.